Four years ago I set up my first Multisite for the affiliate network. I was very impressed (and still I am) with how easy you can create the powerful network in no time. I wanted to know more and more about the things that this system makes possible and devoted all my time to this. When the team that took this project invited me to join I was happy to do it. This is a rare and valuable example of government caring about the people and I'm proud of being able to do my bit.
Pension Fund of Ukraine
Pension Fund of Ukraine which is the main pension plan in the country, required all the regional divisions websites to be brought together under one umbrella.
The system should be controlled by the main administrator, but still giving the ability for local divisions to add local news and documents. It should provide nice user experience for elder users, be accessible and interactive. Also, it should be easy to maintain and ready for the further development.
There are 24 regions in Ukraine and each has its own division of Pension fund.
For many years these regional websites were absolutely separated. They appeared in different time, were created by different people and administered by others lately.
Needless to say that they all had different domain names, design, architecture, content management systems, information, staff. There was no way to navigate from one regional division to another and to the main site, find the information or get any documents. In other words, it was a total mess.
Client wanted all websites of regional departments to work under one umbrella.
So that it won't be the collection of 24 separate amateurish websites anymore, but modern professional looking public portal.
There should be unified design for all departments with ability to customize it on per-site basis. There should be shared content across all sites, but still the ability for every local site to have its own content too. The main administrator should have all control over the network, while local admins should still be able to add local news and information to their sites. There should be clear and easy way to navigate between regional divisions and main website.
So, naturally WordPress Multisite has been chosen as a solution.
The Advanced Custom Fields were used to organize the information in the Network. Free version of ACF doesn't support JSON synchronization so we had to find the alternative way to do this. Luckily, there was no need to reinvent the wheel as Mario Jaconelli has already created his Multisite Post Duplicator plugin. It offers a handy way to share content across WordPress Multisite and (what was especially important for us) is very easy to use for non-tech staff. That's how we managed to set synchronization across network so when the specific information on the main site changes it's updated automatically across all subsites too.
The global navigation menu has very interesting structure. It looks exactly the same across the whole network. But on the subsites some items leads to the local categories (for example, News, as they are local) and some brings user to the main site (for example, Services, as they are the same in all regions). We archived this using built-in WordPress Multisite functionality.
We created a Multisite Network of 1 main site and 24 subsites for each regional department of Pension Fund of Ukraine. They all have got the same theme that can be slightly customized on per-site basis. All the content from old regional websites has been moved to the new network.
As this is the Pension Fund website and the users mostly are older persons it was especially important to make navigation easy and accessible. There is a global network menu across all sites in network to navigate to local and common services, news etc. We have also set a tiny popup for users. When the user navigates the main site from regional department the reminder is shown to him from where he has just arrived, so he can easily navigate back to his local website in case he needs to. Each subsite homepage has got the map of Ukraine divided into regions with all departments listed. The user can see the number of people registered, communities, local contacts and of course the link to the regional subsite.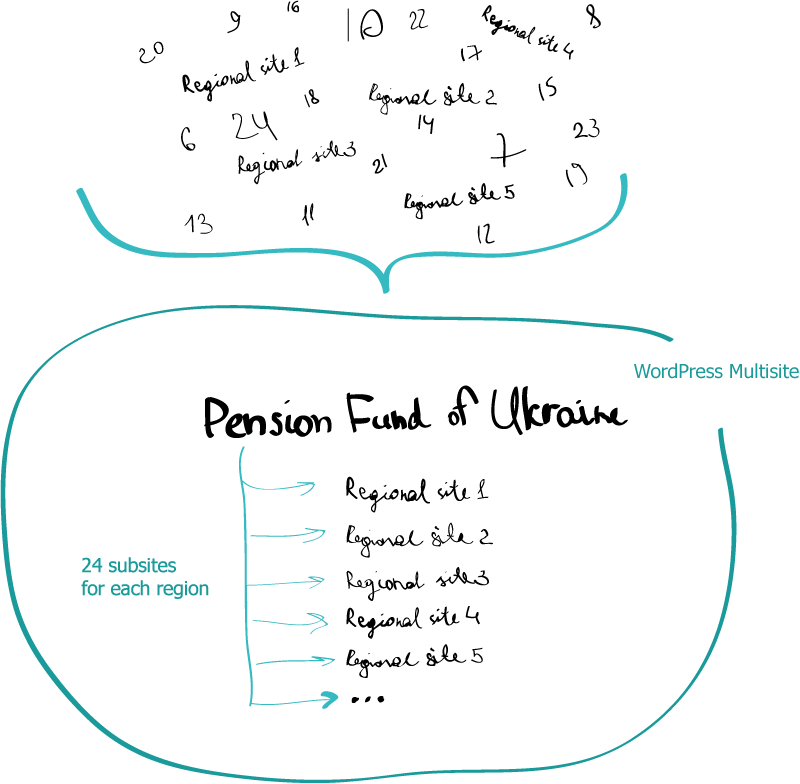 The team has done a great work to make everything works smoothly and now Pension fund of Ukraine has got modern, efficient, easy to manage system for all the departments.
WordPress Multisite is very advantageous when you need a high degree of independence for local subsites but you still want them to share some common resources. It proved to be the ideal fit for the client requirements.