Recap of Episode 4 of WordPress Plugin Startup Show: 7 July 2020
In the previous episode, we were talking about making a roadmap for the plugin.
Homework first:
Nathan's task was to make a roadmap for AB Split Test (that's what I did before for SpeedGuard). He planned the next update.
* AB Split Test is a WordPress plugin to improve your website conversions automatically.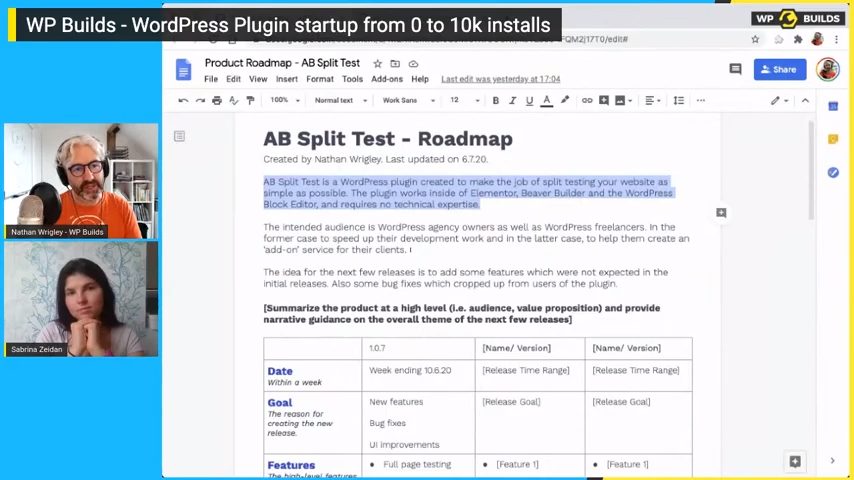 My homework was: to add testimonials to my website; set up feedback processing scheme; and update the Roadmap and Development Plan for SpeedGuard .
* SpeedGuard is a WordPress plugin to keep an eye on your site speed, in background.
I added Testimonials on my website as we discussed in previous episode.
Though I don't have a landing page yet, I already have a testimonials section 🙂 I reached out to people who left reviews to my plugin on WordPress.org and ask them if they mind me adding them to my website. All 4 of them kindly let me do that, I also added: their profile pictures, position, links to their websites and profiles so it would be clear to other people who is the person behind the review and what they do.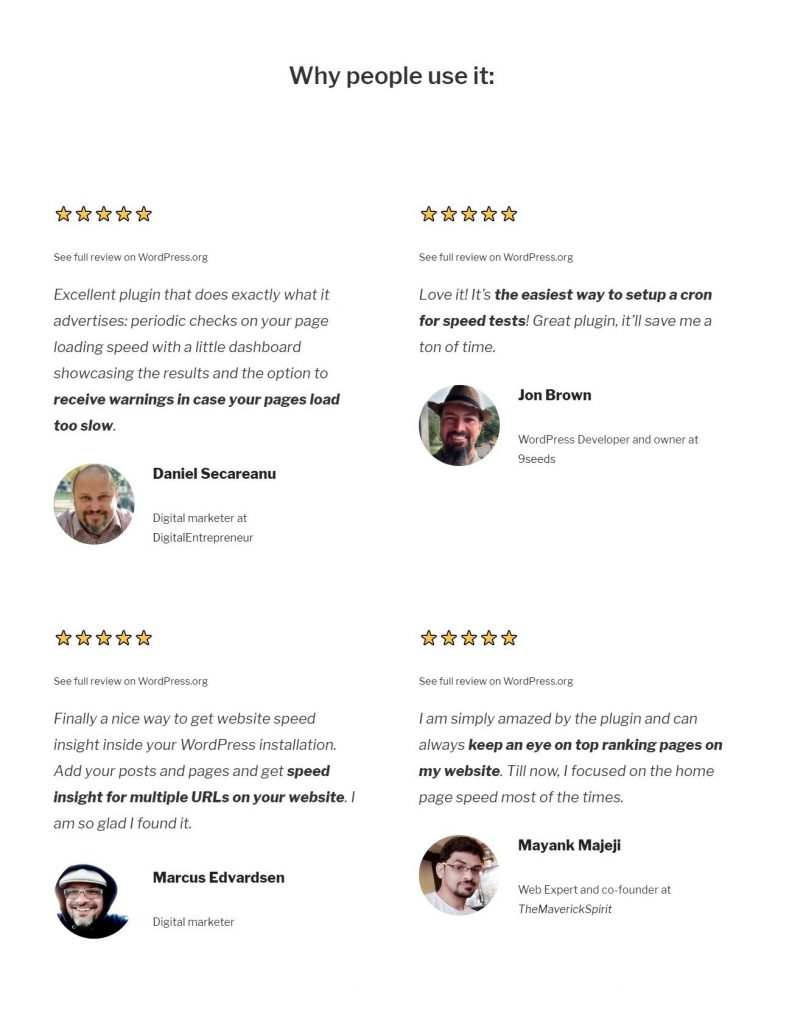 Besides that, as we talked 3 of them shared some new feedback with me! And as one of my tasks for today was to set up a process to deal with feedback I knew what to do with it!
Whenever I get any new feedback now I answer these questions:
Is that a testimonial? Is it better than those that I already have? Replace then!
Is it a bug report? Add on Github (for public tracking) + Development plan (for me)
Is it a feature idea? Add to the Development plan
Does it give me any new information about who and how uses my plugin? Update user scenarios
So, based on the feedback I've added 3 bugs to SpeedGuard's Github, updated Roadmap, updated usage scenarios, and unpdated SpeedGuard Development Plan (which I still prefer to have in Google Spreadsheet).
The topic of this episode: making a documentation for WordPress plugin
I was thinking SpeedGuard is such a simple tool, you just activate it, add pages, it measures site speed, and shows the numbers. Looked super simple to me. It seems to me it's nothing to write about in the docs.
But then I saw something about a screwdriver:
Any plugin (no matter how simple it looks to you) is a little bit complicated than a screwdriver, right?
The question is not: HOW do you use a screwdriver?
But: What do you use it for?
By showing the use cases for a screwdriver in general you can demonstrate all the benefits of your screwdriver along the way!
Click To Tweet
I admire how Ahrefs does that!
Look at their course "Content marketing for Business".
It's 5 hours of super useful tutorials on how to generate more leads through content marketing. Every lesson covers an important topic to anyone who is about to do that. For example, how to find the best keyword to target. They explain it in detail and while doing that they demonstrate how to use their product, Ahrefs, to achieve this goal.
Brilliant, isn't it?
Fun fact: Tim Soulo, a person behind Ahrefs' marketing success is originally from the same small town in the South of Ukraine, as I am
Next week we'll be talking about using WordPress plugin documentation as a part of Content Strategy!
Join us on this journey!
We are going go live in WP Builds Facebook group starting every Tuesday at 2 PM UK time. It's a private group, so you need to join it first. After this, you'll be able to watch us live and participate in a live conversation. If you happen to not have a Facebook account you can watch live here but you won't be notified when we're going live and won't be able to participate in the conversation, unfortunately.